Learn to read in 2 weeks for FREE
The multi-award winning online reading programme for 3-13 year olds
Reading Eggs makes learning to read easy and fun by combining books with online reading games and activities. With the help of one-on-one lesson plans, educational games, and captivating e-books, the programme helps children learn phonics and develop the literacy skills they need for a lifelong love of reading.
Take advantage of our special 2 week FREE trial today and join the 91% of parents that have seen a noticeable improvement in their child's reading skills since using Reading Eggs.
Why you and your child will love
Reading Eggs
Reading Eggs makes learning phonics and basic reading skills a truly enjoyable experience for children ages 3-13.
The programme is built around recognised learning principles and scientific research proven to improve children's reading skills.
Lessons are matched to your child's reading level – so activities are never "boring" or too challenging.
Your child will earn rewards as they progress – so they'll feel proud of their achievements and excited to keep learning.
You'll have access to detailed assessment reports to track your child's progress.
Includes a comprehensive programme of 120 reading lessons, 96 spelling lessons and 200 comprehension lessons developed by a team of experienced primary educators.
Over 2500 e-books are available online – including illustrated chapter books, full colour nonfiction books and a range of classics.
Suitable for children aged 3-13 years

Here's what your child will experience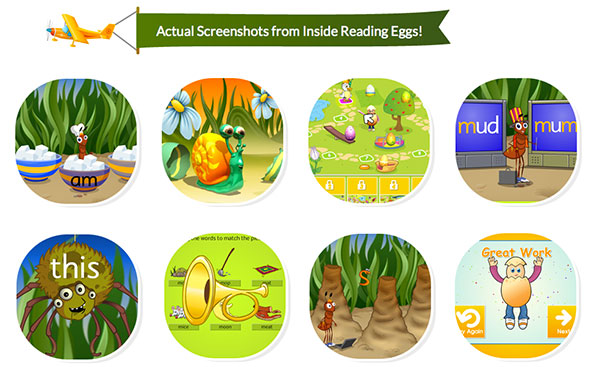 customheader: header-sr code: INS049UK ---
Learn to Read in 4 weeks for FREE!
Reading Eggs is the multi-award winning reading programme for ages 3 to 13 that uses scientific research to help your child learn to read, in just weeks!
The programme is designed by experts to deliver fast and proven results to prepare your child for school in the best way possible.
Learning to read is made fun and easy as your child makes their way through self-paced, one-on-one lessons that match their ability and feature fun characters, wonderful songs and interactive animations.
Fast, proven results
Over 91% of parents report a noticeable improvement in their child's reading ability within weeks.
Based on solid research and proven learning principles.
Teaches phonics, sight words, vocabulary and more.
Trusted in over 12,000 schools worldwide.
Developed by expert educators with over 30 years' experience.
Why you and your child will love Reading Eggs
Self-paced, one-on-one lessons match to your child's ability.
Exciting rewards and certificates enhance your child's motivation.
Over 2000 beautifully illustrated e-books to suit all levels.
Fun characters, songs and animations make learning to read fun.
Track progress with detailed assessment reports and real-time progress updates.
Compatible with tablet devices, which makes learning possible anywhere.
Your child's reading journey:

"As a language teacher, I find Reading Eggs to be a really great educational tool. My daughter is only 3 and a half and she's doing so well recognising letters already. My son is 6 now and started Reading Eggs at 3. It's just unbelievable how he's picked up letter recognition and reading in general. By the age of 4 he could actually read which is pretty amazing!" – Cecile

"By using Reading Eggs, Levi's word recognition is incredible. For a 3 and a half year old, he's really gone ahead leaps and bounds – it's amazing! We'll be walking down the street and he'll look up at a sign and read the words so easily. It's the best thing we've ever done for him. He absolutely loves it, and we love it too." – Phil

"Ava now recognises all her letters and sounds. It's been a really good building block for starting school next year, and she likes hatching the eggs after each lesson!" – Deanne
"We've tried other programmes and nothing compares to this, she's just learned so much! At first I was a sceptic but after the free trial, it's the confidence boost we both needed." – Roslyn
Multi-award winning programme