Join the 10‑week
Reading Eggs
Get Ready for Big School Programme now!
10‑week summer reading programme + yearly subscription to Reading Eggs & Mathseeds for only
£54.99* RRP £83.99 – SAVE 34%
Already a member? Login here
The Get Ready for Big School Programme gives children aged 4 an exciting introduction to the world of reading! Combining fun, self‑paced online lessons with carefully selected activity sheets, the programme will help to build your child's confidence and give them a flying start at school. It's easy to follow and can be done in just 30 minutes a day. So, let's get started!
The 10‑week programme covers essential reading skills needed to start school, delivered alongside a 12‑month subscription that your children can continue to use after the programme is complete. It will consist of weekly worksheets and five webinars over the first five weeks of the programme.
Webinar 1: Get Ready for Big School Introduction
Webinar 2: Eggsploring Reading Eggs
Webinar 3: Eggsploring the library
Webinar 4: Tips to prepare your child for school
Webinar 5: Ways to get your child to enjoy reading.
Save a massive 34% when you sign up today and gain access for up to FOUR children! Each child can complete the 10‑week Get Ready for Big School Programme by following our weekly emails and resources. Each will also receive 12 months' access to our five learning programmes: Reading Eggs, Reading Eggs Junior, Fast Phonics, Reading Eggspress and Mathseeds.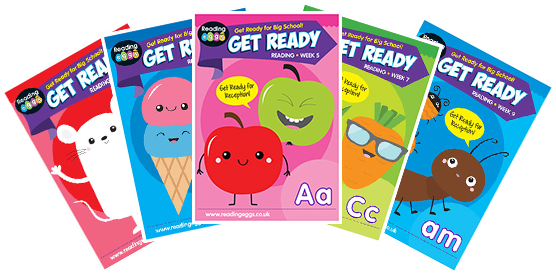 Have children in Years 1⁠–⁠4? If so, our Reading Eggs & Mathseeds Summer Catch‑Up Programme is for you! Find out more here.
Why your family will love Reading Eggs & Mathseeds
Guided lessons are easy to follow and match your child's individual ability
Songs, animations and rewards make learning fun and highly motivating
Progress reports let you track your child's growth
Printable certificates celebrate achievement
Tablet and desktop compatible.