The Breakthrough Online Reading Programme for Kids!
Try the award-winning online reading programme for children aged 2 to 13.
Reading Eggs and Reading Eggspress make learning essential reading skills fun by combining online kids books with interactive games and activities. With one-on-one lessons, hundreds of educational games, free reading worksheets and more, the programmes are the perfect way to grow your child's reading confidence and inspire a lifelong love of reading.
Take advantage of our 2 week FREE trial today and see how your child's reading improves with Reading Eggs and Reading Eggspress.
Why your child will love learning with
Reading Eggs and Reading Eggspress
Makes learning essential reading and literacy skills a truly enjoyable experience for children.
Built around recognised learning principles and scientific research proven to rapidly improve children's reading skills.
Lessons are matched to your child's reading level – so activities are never 'boring' or too challenging.
Your child will earn fun rewards as they progress – so they'll feel proud of their achievements and excited to keep learning.
You'll have access to detailed assessment reports to track your child's progress.
Includes a comprehensive range of lessons covering comprehension, vocabulary, spelling, grammar, and more developed by a team of experienced primary educators.
Includes over 2000 online books for kids – including illustrated chapter books, full colour nonfiction books and a range of classics.
Suitable for children aged 2-13 years
Here's what your child will experience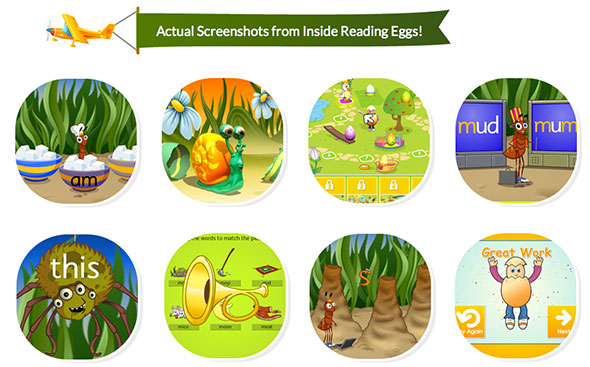 Join more than 10 million users worldwide and start your free trial today.