Reading Eggs Discount Codes
Welcome to the Reading Eggs discount codes page where you will find all of our Reading Eggs promo codes in one place, refreshed and updated regularly!
Grab a great discount below and start your child's reading adventure with Reading Eggs today!
Reading Eggs Coupons, Promo Codes & Discounts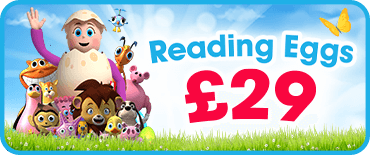 27% OFF a 12 month Reading Eggs subscription
LIMITED TIME ONLY!** Offer applies to a single full price 12 month Reading Eggs subscription. See below for standard terms.*
GET THE DEAL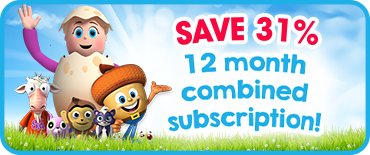 SAVE 31% with a 12 month combined subscription
BEST VALUE OFFER: Valued at £69.90, pay only £47.95! – Offer applies to a single full price 12 month combined subscription to Reading Eggs and Mathseeds.*
GET THE DEAL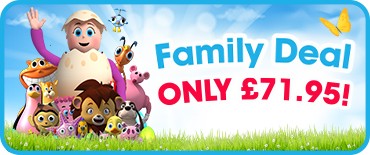 Subscribe up to 4 children for only £71.95!
Family Package Deal – if you have multiple children aged between 2 and 13, take advantage of our amazing family package deal.*
GET THE DEAL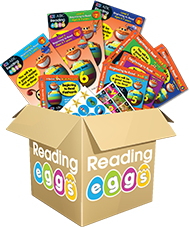 Reading Eggs Book Pack Level 2
SALE! Only £39.95 – SAVE £41.72
Book Pack 2 matches lessons 41–80 of Reading Eggs. Includes:
• 40 reading books
• 200 stickers
• 4 mini posters
• 4 Activity Books
• a pack of durable flashcards.
See below for shipping details.#
PURCHASE NOW
Terms & Conditions
*These Reading Eggs special offers cannot be claimed in conjunction with any other offer and are only available to United Kingdom residents.
**This 27% discount coupon expires on 30th June 2020.
#Standard shipping cost is £4.95 and delivery is available only to United Kingdom mainland residents. Please note extra postage costs will apply for delivery outside the UK. For orders and delivery outside of United Kingdom please contact our customer service team at customerservice@readingeggs.co.uk or 0117 3600 248.

Are you new to Reading Eggs?
Reading Eggs is the perfect way to build your child's reading skills, whether it's at home or on the go. Designed by experienced primary educators, the programme has been shown to increase reading levels in just 15 minutes a day!
Mathseeds features 200 highly engaging maths lessons, exciting rewards, printable worksheets and more! Designed for kids aged 3–9, the fun‑filled learning adventure is designed to teach essential early numeracy skills while nurturing a love of maths.
Try Reading Eggs and Mathseeds with a 2 WEEK FREE TRIAL offer. Register now using the signup box.