Learn to Read in Just Weeks with Reading Eggs
Try the multi-award winning learn-to-read programme for ages 2 to 13 and see how your child can learn to read in just weeks.
Reading Eggs makes learning to read easy and fun for young kids – and it really works!
The programme is grounded in solid educational research and covers the five aspects of reading – phonics, phonemic awareness, vocabulary, comprehension and fluency.
Your child will have fun leaning to read with interactive reading lessons, exciting rewards and over 2500 children's books in the online library.
See why over 10 million users worldwide have launched their child's reading journey with Reading Eggs – start your FREE trial today!
Proven way to teach children to read
91% of parents see an improvement in their child's reading ability within weeks
Based on solid scientific research
Used in over 12,000 primary schools worldwide (and counting!)
Developed by expert educators with 30+ years' experience
Money-back guarantee
Detailed assessment reports show and recognise progress
Why children love learning to read with Reading Eggs
Hundreds of educational games, colourful animations, fun songs and exciting rewards
Makes learning to read fun and highly motivating
One-on-one lessons match your child's ability
Over 2500 e-books for children of all ages and reading levels
Your child's reading journey: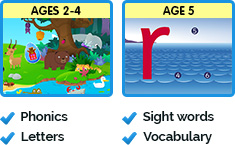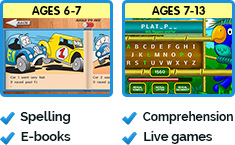 Join more than 10 million users worldwide
and start your free trial today.