Reading Eggs – the multi award winning online reading programme for home educators!
Reading Eggs will teach your child to read in just weeks!
Register now for your FREE 30‑day trial now.
Reading Eggs is the perfect programme for home educators, providing a comprehensive range of online reading lessons, activities and e‑books that teach kids ages 2–13 the core literacy skills needed for lifetime reading success.
Take advantage of our FREE 30‑day trial and see how your child's reading improves with Reading Eggs!
How Reading Eggs can benefit your home education programme
Your child can access 120 reading lessons, 96 spelling lessons, 220 comprehension lessons, over 2500 e‑books and more!
Reading Eggs covers the five essential components of reading instruction: phonemic awareness, phonics, fluency, vocabulary and comprehension.
A comprehensive parent dashboard details your child's progress, including how many lessons they have completed, books they have read, estimated reading age and quiz results.
The one‑on‑one lessons are matched to your child's ability. Children complete a reading test to ensure start at the appropriate lesson. There are also regular assessments and hundreds of printable worksheets.
Actual Screenshots From Inside Reading Eggs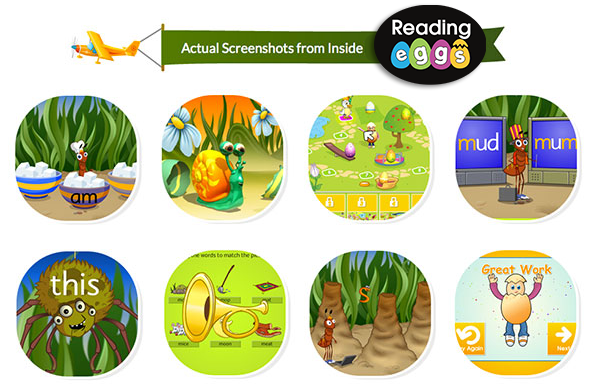 Join more than 10 million users from 169 countries and claim your FREE Trial of Reading Eggs now!